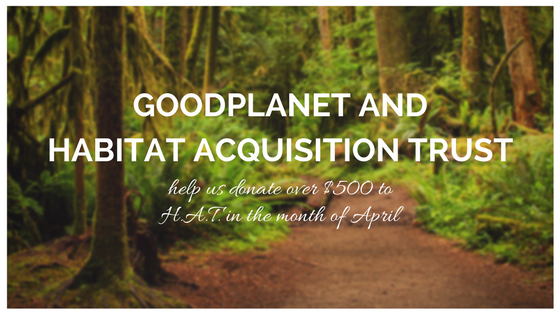 GoodPlanet is partnering with HAT!
Earth Month is here and we wanted to give something back to our local environmental community. So, GoodPlanet is partnering up with the Habitat Acquisition Trust, a group dedicated to restoring and preserving natural habitats on south Vancouver Island and southern Gulf Islands. With your help, we can support HAT in both removing invasive species and restoring the habitats for native species that are rapidly disappearing. 
They work not only doing outreach with local communities and schools but work in depth with private owners to help ensure those areas are not overlooked! You can even lend a hand in the field on their restoration days! Look here for more information about their specific plan for 2015-2020!
In addition to becoming a yearly sponsor, we will be dedicating April, Earth Month, to gathering additional donations for this worthwhile group! For the rest of the month, $1 from the sale of any waste-free lunch products will go directly to the Habitat Acquisition Trust.
We also have a donation box in store where you can feel free to toss your extra change or add any extra donations you are able to give. If you don't have change, and still want to throw in a little extra, let us know and we can add an extra amount on to your purchase.
The impact of this beautiful and unique climate and ecosystem cannot be underestimated! We love living here, with all the opportunities to experience nature that we have, and we hope you'll help us keep our communities healthy and green this Earth Month!

UPDATE - MAY 1, 2018: We made our goal! Thank you so much to each and every one of you for helping us achieve this.  Stay tuned for delivery details (and photos?!)!