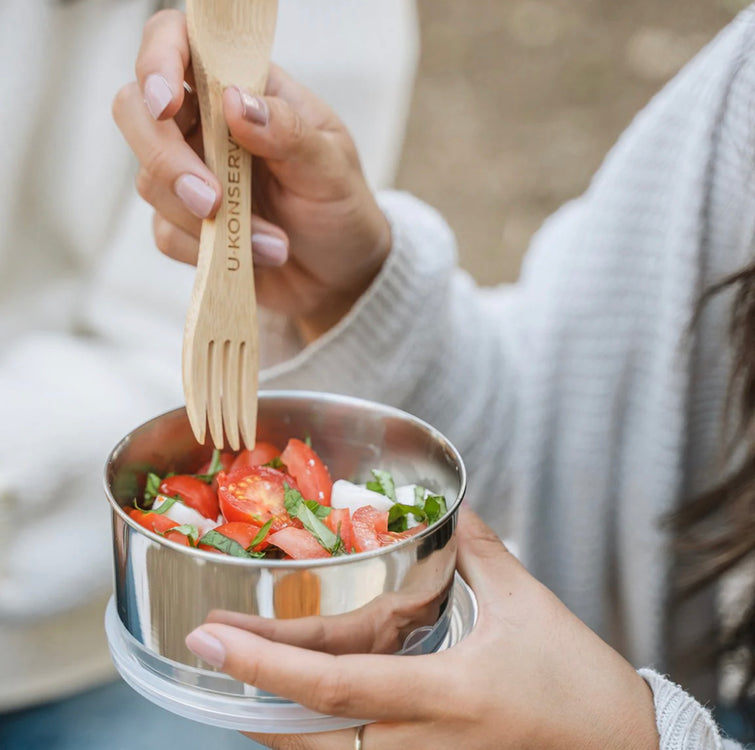 Stainless Steel Food Containers: Elegance Meets Durability
In food storage, stainless steel food containers are a testament to the perfect fusion of form and function.
These containers are not only used to preserve your favourite dishes; They are a statement of sustainability, style and longevity. At GoodPlanet, we are proud to offer a selection of stainless steel food containers that enhance your kitchen and contribute to a more environmentally conscious lifestyle.
The advantage of stainless steel
 Stainless steel is a marvel of modern engineering. It is known for its remarkable durability, corrosion resistance and non-reactive properties, making it the ideal material for food storage containers. Here's why stainless steel containers are a must:
Durable Quality: Unlike plastics that can wear out and glass that can break, stainless steel food containers are built to last. They can withstand the rigours of daily use and will serve you for years with proper care.
Safety First: Stainless steel is naturally BPA-free and does not leach harmful chemicals into food, ensuring your meals remain pure and uncontaminated.
Temperature Control: Whether you store hot soups, cold salads, or snacks at room temperature, stainless steel maintains the desired temperature, keeping your food fresher longer.
Aesthetic Appeal: Beyond their functional benefits, stainless steel containers exude a sleek, modern aesthetic that complements kitchen décor. They are perfect for serving and presenting food at home or on the go.
Versatility at its finest
Our collection of stainless steel food containers adapts to various needs and lifestyles:
Lunch Containers
Pack your lunches in style with our stainless steel lunch containers. Their compact design and leak-resistant lids make them perfect for your daily travels or school lunches.
Bento Boxes
For those who prefer a more organized meal experience, our stainless steel bento boxes offer separate compartments to separate different dishes.
Bulk Storage
Our stainless steel bulk storage containers are the answer if you prefer to buy in bulk or store large quantities of staples like rice or pasta. They keep your pantry essentials fresh and pest-free.
Round and Rectangular Containers
We offer a variety of shapes and sizes to meet your specific storage needs, from round containers for soups and sauces to rectangular containers for sandwiches and leftovers.
An ecological choice
 Stainless steel is inherently environmentally friendly. It's 100% recyclable, meaning that when you finally decide to retire your containers, you can reuse them to make new stainless steel products instead of ending up in a landfill.
You consciously reduce single-use plastic waste by choosing stainless steel food containers and contribute to a more sustainable planet.
Join the stainless steel revolution.
 Upgrade your food storage game with our collection of stainless steel food containers. Experience the durability, versatility and elegance of these containers in your kitchen. Make a sustainability statement and enjoy the peace of mind of knowing your food is safe and fresh.
Explore our range of stainless steel food containers today and take the first step towards a more sustainable and stylish food storage solution. Enhance your kitchen experience with stainless steel containers from GoodPlanet, where elegance meets durability.
Choose stainless steel for a more eco-friendly, stylish and durable food storage solution. Join the GoodPlanet family of satisfied customers and discover the beauty of stainless steel food containers today.