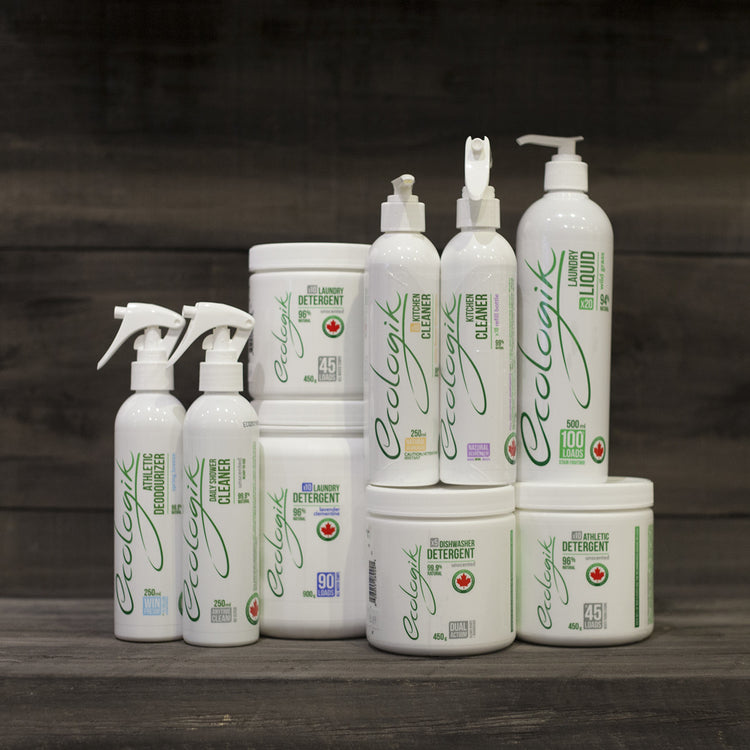 Introducing Ecologik
We're so excited to introduce Ecologik from our friends at The Soap Exchange.
Ecologik was built on three pillars:
Super Concentrated: With no fillers added, these products are powerful and efficient. Their efficiency saves consumers time & money and saves recycling resources, since every bottle lasts longer.
Full Disclosure: Ecologik believes in openness and honesty. They have limited ingredient impurities to <1%. And (my favourite feature) they list the reason for each ingredient's presence in every products, so you know exactly what is in there and why. Everything they produce is free of phthalates, dyes and SLS/SLES. Ecologik products contain no animal ingredients and those that are scented are done so using essential oils.
Making Canada Proud: This is something we can totally get behind. Proudly manufactured in Saskatchewan and committed to creating new opportunities by working with local partners and other Canadian companies.
The best thing about Ecologik, though, is how well it works. Most of the staff have already switched over to at least one Ecologik product, some of us have switched many. I'd like to shine a spotlight on a few of my favourite products from the line:
 Athletic Deodorizer
Utilizing the power of enzymes and 75 trillion cleansing microbes to fight organic residues, this stuff has saved my family from stinky gym bag hell. It doesn't just mask the smell, it actually metabolizes the source of odours.
x10 Kitchen Cleaner
This heavy-duty degreaser is available in both unscented and White Flower Clementine (my favourite scent from the whole line). You can buy the kitchen cleaner ready to go, or you can buy the x10 pack, including an empty spray bottle and super concentrated cleaner - following the directions on the packaging you can get 10 full bottles of highly effective kitchen cleaner from one pack.
X20 Laundry Liquid
Suitable for high efficiency and standard washers, this incredibly concentrated laundry liquid is devoid of fillers and works for any water temperature. I have witnessed its superior stain fighting properties myself. Available in scented and unscented (the Wild Grass scent is pretty great).