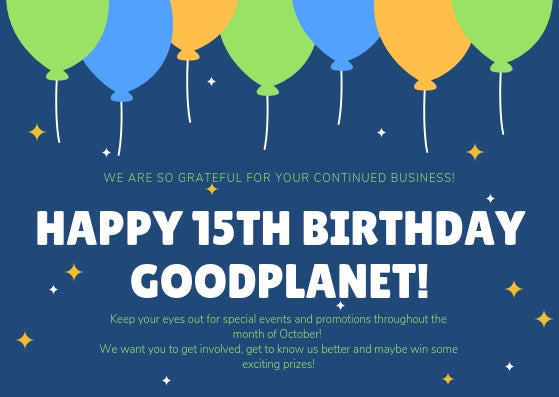 Happy 15th Birthday GoodPlanet!
October is a big month for GoodPlanet! It is our 15th year in Victoria and there are plenty of changes and events taking place this coming month!
It's hard to imagine that we've been here this long because the time has flown by for us. Making friends with customers and fellow environmentalists in the last 15 years has not only helped us grow, but it has also been a great pleasure and privilege for our small business!
We were pretty lonely, being one of the first Victoria companies focused on eco-friendly products and offering local and refillable options for our customers. But we were able to build great relationships with the few companies that were doing similar things, like the Soap Exchange, who are celebrating 25 years in Victoria this year as well! Over the last decade, however, we've seen such wonderful and exciting growth of the goals we founded GoodPlanet on, as well as a larger variety of options that our customers have always been looking for. We feel so lucky to be able to watch and help a community grow, in any way, over such a long time. Vancouver Island is taking the lead in a lot of ecologically focused ways, and watching more businesses open their doors and begin to foster more conversation and knowledge fills our store with excitement! Whether it's well-established Nezza Naturals for more locally made, natural body care, and the supplies for making your own, or the new and exciting Zero Waste Emporium for truly waste-free groceries, refills and so much more, we have always been happy to point our customers to many of the wonderful environmentally focused businesses that have popped up in our growing community!
And we want to get to know our customers and community even better in the coming months and years, so to get things started off, we will be doing a weekly question and answer day on Instagram! Have you had a question about GoodPlanet? Something like: How many staff does GoodPlanet actually have? Who makes your body care? How do you decide what products to bring in? How often is there a dog in store to visit? Why don't you carry _______? Or anything else? Join us on Instagram on Saturdays to pose your questions and see our staff get excited and honest about our products and our business with the answers on Sundays! Getting in touch with us with a question via Instagram is just one way to be entered into the amazing giveaways we will be organizing through the month!
We have also been spending time building up our new website, and while that is an ongoing process, (Do you know how many products we carry?! It is A LOT!) one exciting feature is the ability for our valued customers to review products and give us some feedback! So for the month of October, if there are products you love, and want to weigh in on, go to our website! When you review three separate products, we will give you a bar of soap for free (in-store pickup only) and enter you to win one of three amazing prizes! 
And just to truly show our gratitude, everyone who spends over $100 from October 15-30 will be entered into the draw! 
First prize will be a gift basket from GoodPlanet, filled with all our staff favourites, worth over $250! 
Second prize will be a GoodPlanet gift card for $150, and can be redeemed in-store or online! 
Third Prize will win a gift basket worth over $100 from one of our favourite Canadian companies: Honey Candles, a local BC company we have been carrying for too long to put a number on! 
We will spend the month of October partying, getting to know our customers even better and making the right kinds of changes to move The GoodPlanet towards the best version of itself. We are inspired every day by our customer and our community and we are so thankful and excited to spend the next 15 years making it easier than ever to get your hands on well-sourced green, local and environmentally friendly products!