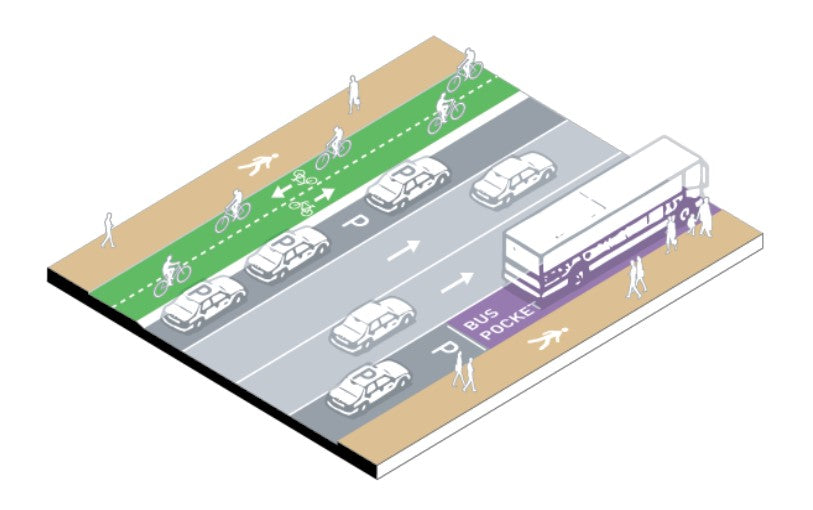 Fort Street Bike Lane Construction
If you've been out on Fort Street recently, you've surely noticed the beginnings of construction have started on the Fort Street bike lanes. Our city is becoming more environmentally minded everyday, and we are so excited to be right in the middle of some of these improvements to our city. 
This construction is part of a plan to connect the city through an AAA (All Ages and Abilities) Bike Lane Network covering 24 km. The network is meant to make space for those people who might like to bike but are concerned about the safety of existing bike lanes, and help address the needs of people who use alternative methods of transportation, without ignoring changing traffic patterns and the continued need for accessible parking.
Phase 1, including the Fort Street portion will be completed in 2018. Here are a few links for more info on the project, some Fort Street facts, and a look at the future plans for the city as well. We're proud to be a part of a community that is not only constantly working towards environmental goals, but thinking about accessibility for our whole community while the work happens! 
While the construction will be spaced out over the next few months, the city is working to ensure your holiday shopping won't suffer too much interruption, and that you can still access all your favourite Fort Street businesses! 
| | |
| --- | --- |
|   | You also might have noticed some new, shiny, green bikes making their way around downtown and surrounding neighbourhoods. Downtown Victoria has become the first North American location for U-Bicycle, a bike sharing company that allows users to pay $1 per 30 minutes to rent a bike, and reduce their carbon footprint! They've only been on the streets since the end of September but the convenient app, and ability to leave the self-locking bikes anywhere bikes can be legally locked up, make them environmentally friendly and convenient. Each one even has a helmet attached, in case you forgot your own or feel like a spontaneous ride! |
| | |

Hopefully Victoria only continues to make exploring our city easier and more accessible for all! And don't forget, construction or not, the GoodPlanet Company is always available online, if you just can't make it by to say "Hi!"