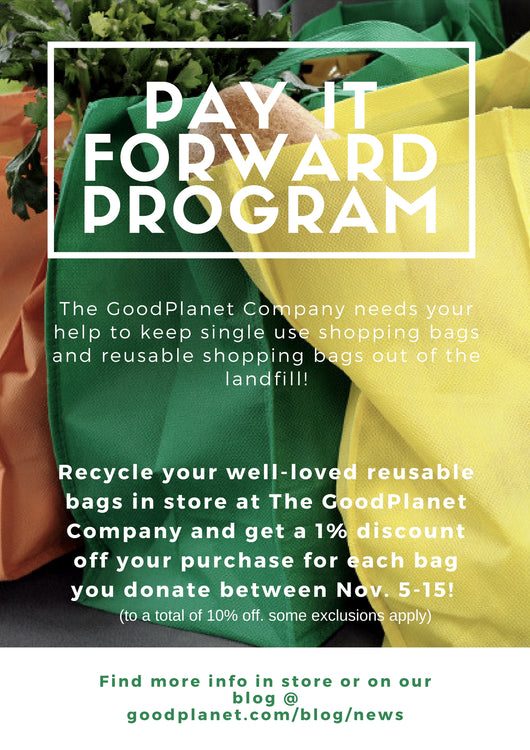 Don't YOU Ever Get Tired Of Carrying Groceries?
Everyone knows reusable bags are good for the planet. On average, each household using single use plastic bags sends over 500 bags to the landfill EVERY YEAR! Reusable bags help put a huge dent in that number, but even they have a shelf life. It takes approximately two years of weekly use for reusable bags to really live up to their environmental intentions and consume fewer resources than single use plastic bags, but you could have yours for longer than that if you commit to taking care of  them properly!
But, what happens when your reusable bags are starting to fall apart? Replacing 500 plastic bags each year takes a toll and when your reusable bags are worn out, no environmentalist wants to see even that sent off to the landfill! 
The GoodPlanet Company wants to help divert as much waste from our landfills as possible. If you have worn out reusable bags or even if you just started a collection of them under the sink, and want that space back, bring them to us and let us send them on to yet another useful purpose! The GoodPlanet is collecting as many well loved reusable bags as possible to send off to ChicoBags, a company whose products we are proud to carry!
Through their Pay It Forward Program, they collect any reusable bags that are looking a little worn and redistribute any that are still functional to low-income families or communities in need that want to replace single use plastic bags. The ones that are too well-loved to continue to be of use will be shredded and repurposed into rugs, art and other useful products by local artisans and non-profit organizations that ChicoBag donates to.
Between November 1st and 15th, when you bring in your well-loved reusable bags to The GoodPlanet, you will receive a discount for each bag you bring in, up to a total of 10% off your purchase!* If you are just starting a reusable bag habit, stop by the store during this time and receive 10% off ChicoBag products, including reusable produce and shopping bags.
The GoodPlanet Company will, however, continue to collect worn out, or excess reusable bags year round! So don't forget about us the next time you find a trail of groceries behind you from that pesky hole in your reusable shopping bag. 
*Discount applicable the same day you bring your bags into the store. Some exclusions apply. Cannot be combined with any other offers. If you have more than 10 bags to donate, please feel free to bring as many as you'd like!*