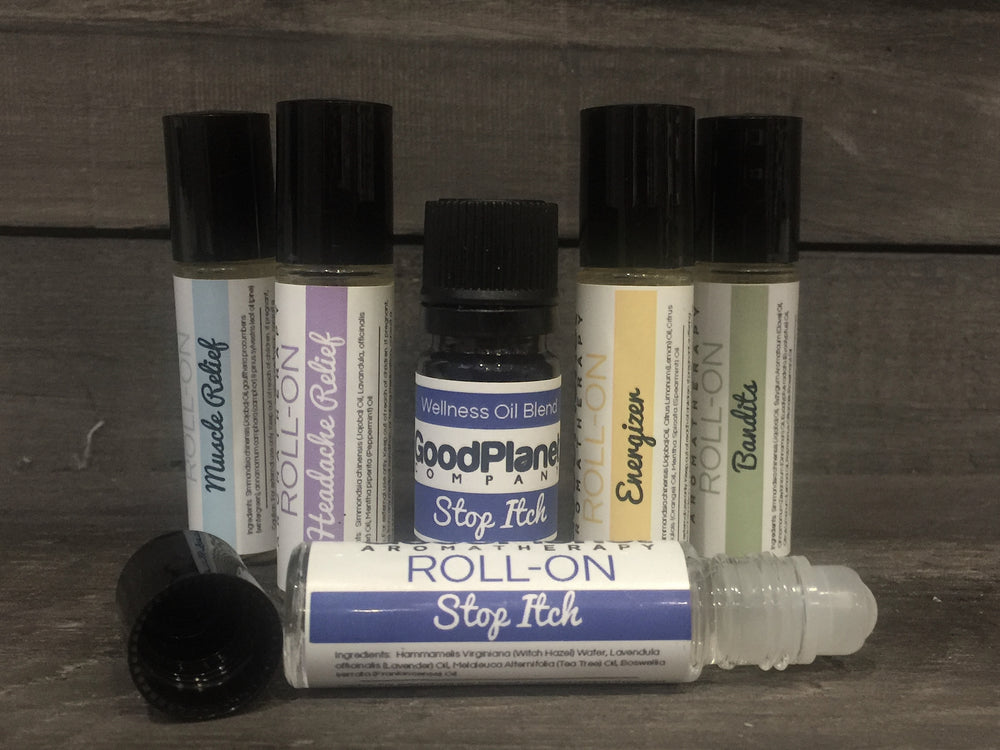 A Naming Game
One of our most underrated essential oil blends is experiencing an identity crisis! Stop Itch: a blend of lavender, tea tree, and frankincense, is a magician at reducing the effects of bug bites, and other itch causers, but its usefulness isn't limited to itch related issues. We need some help coming up with a name fit for its prowess because each oil in the blend is a powerhouse of aromatherapy:
Lavender, in addition to being one of the most popular essential oils, is great for:
Bug repellent
Helping relieve stress and anxiety
Relieves headaches
Helping you fall asleep faster
Pain relief
Helping heal acne, eczema, and other skin conditions
Aiding respiratory disorders
Promoting healthy hair and skin
Helping with blood circulation
Aiding digestion
Having antibacterial and antiviral properties that help boost immunity
Antioxidant protection
Supporting brain function
Used as a compliment to many cancer treatments
Tea Tree is just so versatile. It:
Can help heal acne, eczema, and other skin conditions
Speeds healing
Aids respiratory disorders and infections
A useful expectorant
Helps treat fungal infections
Insect repellent
Helps treat insect bites and reduce itching and swelling
Helps neutralize odors
Helps kill mold
Used as a compliment to many cancer treatments
Has antibacterial, antiviral, antiseptic and antimicrobial properties
Stimulates blood flow
Has been known to reduce inflammation and pain
Helps promote healthy skin and hair
Frankincense:
Helps reduce stress
Helpful as a sleep aid
Boost immune system function
Helps prevent infections and illness 
Antiseptic, antibacterial, astringent
Used as a compliment to many cancer treatments
Helpful for a variety of skin and hair issues
Aids in digestion and gas build up
Can help to decrease inflammation and pain
Helps to temper symptoms associated with hormonal imbalance, such as PMS or menopause
Together these three oils have you covered! And to top it all off, it smells great too! This blend is not only great for a variety of itch-inducing situations but can help reduce pain and inflammation, the risk of infection and illness, speed healing and boost immunity, help you keep your skin and hair healthy and sleek, deter many common insects, etcetera, etcetera, ETCETERA! The applications are as endless as they are exciting and we need to find a name that reflects its fantastically versatile nature.
If you have a suggestion for a better name for our blend, you can enter by commenting on our Stop Itch post on Instagram, or the same post on Facebook! Each person who makes a suggestion will be entered to win a $20 GoodPlanet Gift Card and an aromatherapy gift pack worth over $60, including Roll-Ons of 5 our favourite Wellness Essential Oil Blends (including Bandit's, Energizer, Headache Relief, Muscle Relief, and Stop Itch) and a bottle of Stop Itch Essential Oil! We will be taking suggestions via Facebook and Instagram from the 18th until the 22nd, and will announce the winner and their fantastic suggestion by Friday, July 27th. We can't wait to hear all of your awesome suggestions!
**As always, aromatherapy is not a replacement for treatment, and aromatherapy affects everyone differently. If you are pregnant, nursing, have children, pets or other concerns about the effects of oils on you particularly, we encourage you to consult a doctor or professional.**