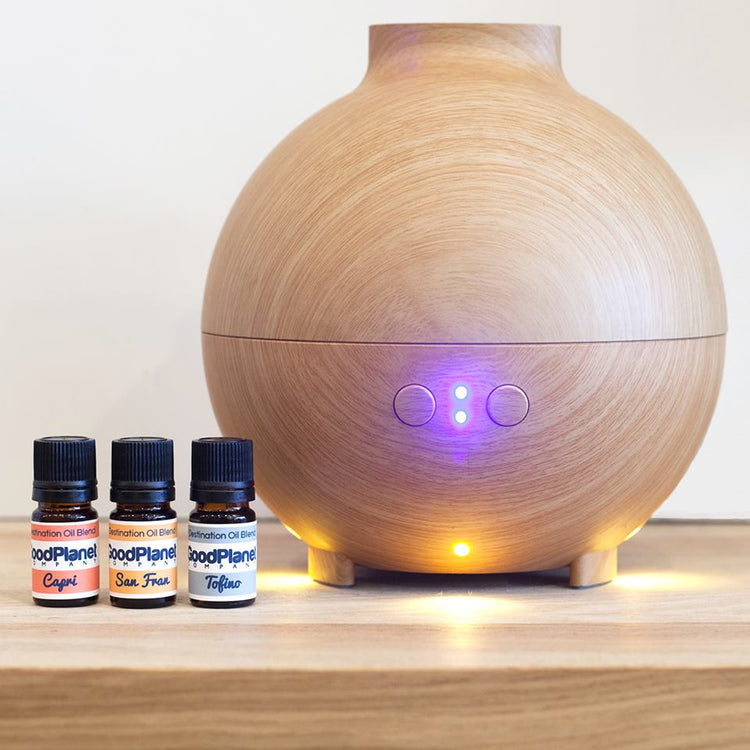 Do You Diffuse?
We love essential oils here at The Good Planet, we use them in our soaps, scrubs, shampoos and more. But we also love to diffuse them!

The benefits of diffusing essential oils run far beyond deodorizing your home. 
Relaxation
Essential oils can lift the spirit and calm the mind. Lavender is probably the most well known relaxing oil, but chamomile, bergamot, frankincense, jasmine, neroli, rose, sandalwood and ylang ylang can all help us to achieve a state of relaxation.
Immunity Boosting
During cold & flu season, essential oils can add an extra layer of defense against illnesses. Cinnamon, eucalyptus, frankincense and oregano can all help boost immunity.
Air Cleansing
When the air in our homes starts to feel a little stale, diffusing certain essential oils can help to purify. Lemon, peppermint, rosemary, sage and tea tree all have air cleansing benefits.
Sleep Aid
Here at The Good Planet we know the importance of quality sleep, when sleep eludes you it can effect every aspect of your daily life. You probably already know that lavender is a commonly used and very effective sleep aid, but there's more! Roman chamomile, ylang ylang, bergamot and sandalwood can help those chasing elusive sleep.
Cold & Flu Relief
Essential oils can help us breathe easier when we're struggling due to cold, flu or allergies. Pick up our exclusive "Breathe Better" blend or try eucalyptus, lemon, rosemary or peppermint.
We carry a range of diffusers and essential oils. Our exclusive destination blends diffuse beautifully and our 100% pure essential oils can help ease a number of ills.